The Surprise Of The Century
One military wife was given the shock of the century when a family outing with her children transformed into a scuba surprise from her soldier husband. That was probably the last thing she was expecting that day!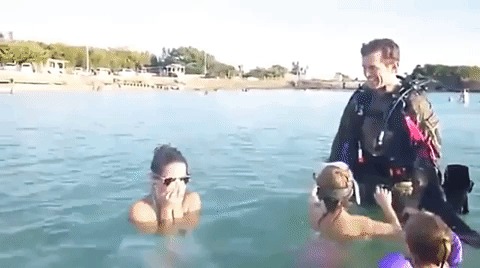 Captain Hyrum Bronson was given the opportunity to return home three weeks early from his deployment to Afghanistan, prompting the father and husband to meticulously plan the ultimate surprise.
As the family enjoyed a bit of time in the water, a friend began recording their experience and asked Captain Bronson's two daughters, "What would you say if [your daddy] was here today?"
"I would tell him that I love him and that I miss him and that I would love him for always," one of the little girls responded while enjoying her time in the water.
The Wife Never Expected This To Happen…
The mother was quickly asked the same question, to which she sweetly responded, "Love you! Miss you!" But none of the family members knew they'd soon get the chance to talk to their beloved husband and father face-to-face fr the first time in ages.
As they continued with their swimming, a large man emerged from the water directly behind them in scuba gear.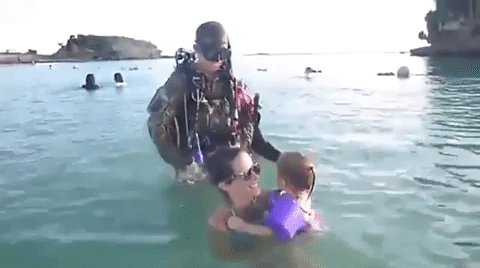 As he took off his mask, the wife immediately recognized her husband and screamed, "Are you freaking kidding me?" She was in a total state of shock, and understandably so!
"Mrs. Bronson, your husband is here reporting for duty!" The wife then broke into tears as her husband scooped her into his arms. The rest is history.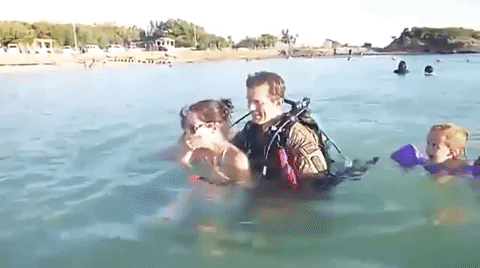 How sweet is that? You can watch the emotional surprise in its entirety by tuning in to the video below! 
Military reunion videos like these always get to us. If they get you all choked up as well, you best be warned before you press play on this video. It may be a smart idea to grab a tissue (or two) before you do.
It makes us so happy to see such loving moments like this!