Every country boy's dream has arrived! It's called the 2019 Sea-Doo FISH PRO, and it's an incredible mix between a jet ski and all the fishing gear required to have a great day on the water.
Man's New Best Friend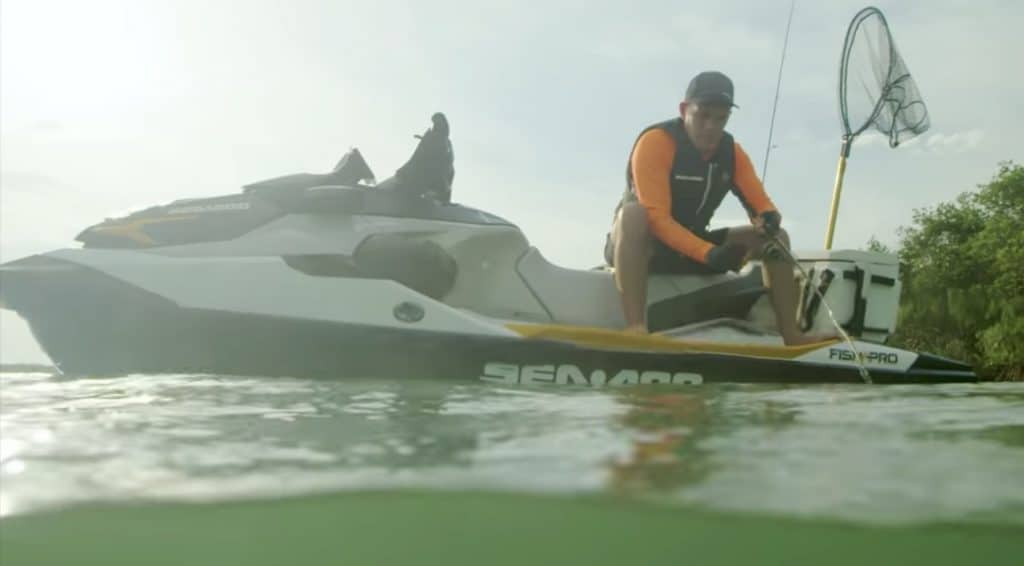 It's the very first factory built personal watercraft (PWC) specifically designed to go fishing. Created by professional fisherman Andrew Hill from New Zealand, who is also the Ambassador of the company Sea-Doo, the FISH PRO comes with all the specs any fisherman would love to have. They dropped a Facebook post on it last September telling the world it was ready for the market.
Ready. Set. Go Fish.
Ready. Set. Go Fish ?.Explore the all-new 2019 FISH PRO: http://bit.ly/2Od14Pb

Posted by Sea-Doo on Sunday, September 16, 2018
The beautiful jet ski has so many amazing features that are perfect for fishing.
3 Sea-Doo Features
LinQ Fishing Cooler – a tough built-in 13.5 gallon cooler specifically created for storing ice, bait and caught fish. It also includes a work surface on top of the cooler for cleaning fish, and rod holders on the sides of the cooler for holding your fishing poles.
Direct-Access Front Storage – it's got an amazing "secret" storage compartment underneath the jet ski handlebars.
Garmin Navigation And Fish Finder – it comes equipped with a Garmin ECHOMAP Plus 62v Fish Finder that has a 6-inch screen mounted on the dash. This fish finder is top-of-the-line technology that'll navigate and chart the waters, finding fish with ease.
The FISH PRO has even more features ranging from a Water-tight Phone Box, Trolling Mode, ST3 Hull, LinQ Attachment Points, to an Angled Gunwale Footrest, Fishing Bench Set, Extended Rear Platform and Boarding Ladder. You can get all the juicy details of each feature on their main website, Sea-Doo.com.
Winning 2019 Innovation Award
The Sea-Doo FISH PRO wins the 2019 @therealnmma Innovation Award. https://t.co/FH6UUlm13T pic.twitter.com/RKuvZ4WQix

— Sea-Doo (@BRPSeaDoo) February 15, 2019
The Sea-Doo FISH PRO was so impressive to the National Marine Manufacturers Association it was honored with winning the 2019 Innovation Awards at the International Boat Show in Miami. Recognizing it as an "exceptionally groundbreaking new consumer marine product," it beat out 66 other products across 26 other categories.
It's a must-see for all fishermen worldwide.