Canine Crew Of Clowns
After decades in the business, Bert Davis has earned the reputation as one of the best rodeo clowns there is. Known as "The Coppertown Clown" or the "Clown with all the Dogs," Davis and his canine companions never fail to put a smile on people's faces with their hilarious skits.
According to the biography on his website, Davis started his rodeo career at the age of 16. He was the youngest bullfighter in the nation at the time, and later started working as an entertainer and rodeo clown.
As much as the crowds love Davis, they go absolutely crazy for his pack of talented pups. Dubbed the "Muttley Crew," the ten dogs featured in Davis' acts were all rescued by him and his wife, Frannie.
World-Famous Pups With Paw-fect Routines
Davis and his dogs have received worldwide recognition for their talent. In 2002, National Geographic highlighted Davis and his dogs in the television documentary Dogs With Jobs.
Their popularity increased even more in 2010 after they reached the third round on the popular competition series, America's Got Talent. This resulted in them becoming the only animal act to earn a show in Las Vegas.
One of Davis' most popular skits is called "The Garbageman's Nightmare." Davis and his dog Kitty won the Comedy Act competition with the skit at the Contract Acts Showcase in Oklahoma City in January 2012. Crowds can never seem to get enough of the hysterical little routine!
A Howlin' Good Skit
At the Tough Enough to Wear Pink Night at the Showdown Rodeo in Palmdale, California in 2009, one audience member happened to capture Davis' entire skit on camera. This time Davis was joined by his scruffy pup Benji, and the two put on one comical show.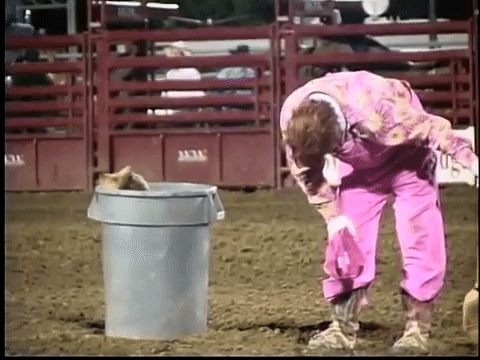 Davis starts off by trying to sweep up a pile of trash so he can put it into the trash can beside him. But then Benji runs in and destroys all of his hard work by tipping over the trash can.
When Davis swings his broom at Benji in frustration, Benji jumps over it, causing Davis to become even more aggravated.
Due to his anger, Davis swings too hard a few time and sends the broom flying across the arena. As he leans over to pick it up, Benji runs over to him and knocks him down on the ground!
We won't spoil any other parts of the skit for you. Go ahead and watch the whole thing below, and prepare to laugh your head off!