The Timeless "Duel"
If you're a true country fan, then "Dueling Banjos" really needs no introduction. This classic tune was originally composed by Arthur "Guitar Boogie" Smith in 1955 as "Feudin' Banjos," and has since earned an iconic status thanks to a 1972 film.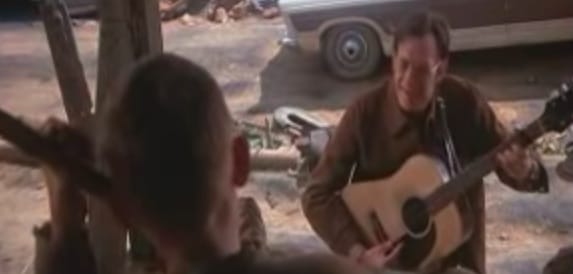 Deliverance is a drama thriller based on the novel of the same name, and is so deeply respected as a film that the National Film Registry selected it for preservation. The movie stars Jon Voight, Ned Beatty, and Burt Reynolds in one of his earliest roles.
A major scene that contributed to the film's success depicts a city man playing guitar opposite of a country boy with an intellectual disability who is extremely talented at playing the banjo.
Creating Movie Magic
The song that these two characters played in the film was none other than "Dueling Banjos," which Eric Weissberg and Steve Mandel arranged, recorded, and released as a single in connection with the film.
The single was a major chart success, and held on to the #2 spot for four weeks on the Billboard Hot 100.
It was Weissberg and Mandel's recording that was used in the film, so the actors playing the parts of the city man and the country boy weren't actually playing it.
In fact, Billy Redden, who played the country boy, didn't know how to play the banjo at all.
The director thought his hand movements weren't convincing enough, so a local musician was brought in to hide behind Redden to portray his hand motions.
Camera angles kept the musician hidden so that the movie magic remained intact. The result was one iconic scene that we could watch again and again.
If you'd like to check out an equally mesmerizing version of "Dueling Banjos," watch Kermit the Frog and Steve Martin play the ditty in the clip below. Who do you think will win their duel?
Do you have any other versions of "Dueling Banjos" that you enjoy? Go ahead and share them with us, because this is one song that no country fan can ever get enough of!