Blake's Song Earns Passionate Response
From the first teaser Blake Shelton released of his song "God's Country," you could tell that the song was going to be something special. Already hooked without hearing much more than a few notes, fans anxiously awaited the full song's release.
That day finally came, with Shelton sharing a "Motion Graphic Series" video on YouTube to accompany the song's audio.
The response to "God's Country" was overwhelmingly positive. Fans flocked to social media to praise the song and Shelton's performance, saying that it was one of the best country songs to hit the airwaves in years.
More enthusiastic responses came pouring in after Shelton's first live performance of the song, which took place during the ACM Awards. Viewers were left in absolute awe over what they witnessed from Shelton that night.
ok y'all, Blake Shelton's new song God's Country is soul changing ?

— Sloan Boren (@BorenSloan) April 8, 2019
I freakin LOVE Blake Shelton's song Gods Country ????? #ACMAwards

— shelb (@_shelby_nicolee) April 8, 2019
If God's Country by Blake Shelton doesn't give ya goosebumps and thinking about your hometown, then you're spare parts bud

— Andrew Zeeh (@AndrewZeeh) April 3, 2019
A Tease For The Music Video?
On top of releasing his initial video for the song, Shelton also debuted another clip titled "The Prequel." The simple video shows a tractor resting in a field as it is being engulfed by flames.
Shelton didn't explain what "The Prequel" title of the video was supposed to mean. Some believe Shelton is creating a visual album, and this video is the first part. Others thought that the video may have been a teaser for an official music video to come later.
The latter assumption eventually turned out to be true, in a sense. Shelton dropped the official music video for "God's Country" on April 12, 2019, and the clip features some footage of the burning tractor that you see in the "Prequel" footage.
Piecing Together A Music Video Masterpiece
But that is only a small part of the larger masterpiece. The video shows Shelton adventuring through "God's Country," which to him, is his home state of Oklahoma.
Shelton told CMT he knew that Oklahoma had to be the location for the video shoot, saying, "We spent four days shooting there, in and around Tishomingo, getting connected to the land, the environment and the spirit of the music. As I've said before, I was born in Oklahoma and I'll be buried there."
He is seen chopping wood, driving his truck through wooded landscapes, and stopping to cool himself off in the water.
#GodsCountry Official Music Video THIS FRIDAY – Team BS pic.twitter.com/VM3xr51KgQ

— Blake Shelton (@blakeshelton) April 10, 2019
The footage of Shelton in the modern day is mixed with black and white clips that were filmed during the Dust Bowl. Oklahoma was hit hard during this devastating era of dust storms, which seemed to be never-ending.
By including the Dust Bowl footage, Shelton shows both sides of "God's Country," proving that people always have to pay their dues to the land they live on, whether they are surrendering to its beauty or its wrath.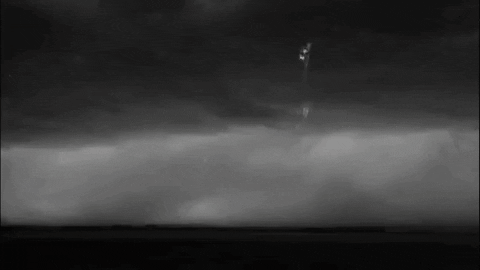 Overall, Shelton's music video for "God's Country" is a divine work of art that is sure to leave you covered in goosebumps. The stunning images and Shelton's passionate delivery combine to create something that is chilling in a wonderful way.
You can watch the official music video for "God's Country" below. Shelton truly outdid himself with this one.